Standing Out From The Rest, as we do!​
Our boutique bell tents are brand new, look fabulous and will certainly keep you dry. They scream style and class and are the perfect finishing touch to any event.However, where we believe we have really got it right is by the added level of service you get from us making everything seamless from booking to checking in at the venue.As a starter for ten, The Glamping Company have their own check in desk for all Corporate Events International events. There, our friendly team will not only check you in, but walk you to your boutique bell tent to check that everything is just as you expected and so much more.Our team stay on site for the duration of the event, so if there are any issues at all, they are readily available and on hand to assist you.Finally, how on earth do you manage 100 guests plus and all their requirements, payments and of course who is sharing with who?! We are big believers that putting on an event can be challenging enough, we do of course make this as hassle free as possible at Corporate Events International by totally event managing everything, leaving you to concentrate on the fun stuff. Our administration team work with you to create a master guests list, we are in first-hand contact with all of them to ensure that their beautiful bell tent is exactly what they want. They book and pay with us directly, that's everything from bedding to hang-over kits, yes these actually do exist and are a real thing- Everyone loves a Bloody Mary to chase away the night before, drivers need not apply!So why are we different? We care, not only with the finishing touches of your bell tent but from the moment you book, to arrival and departure on site.Our team are dedicated to creating a magical under the stars experience for you and your friends and family.Get in touch with us today to find out how we add luxury and comfort to canvas! #LetsCelebrate​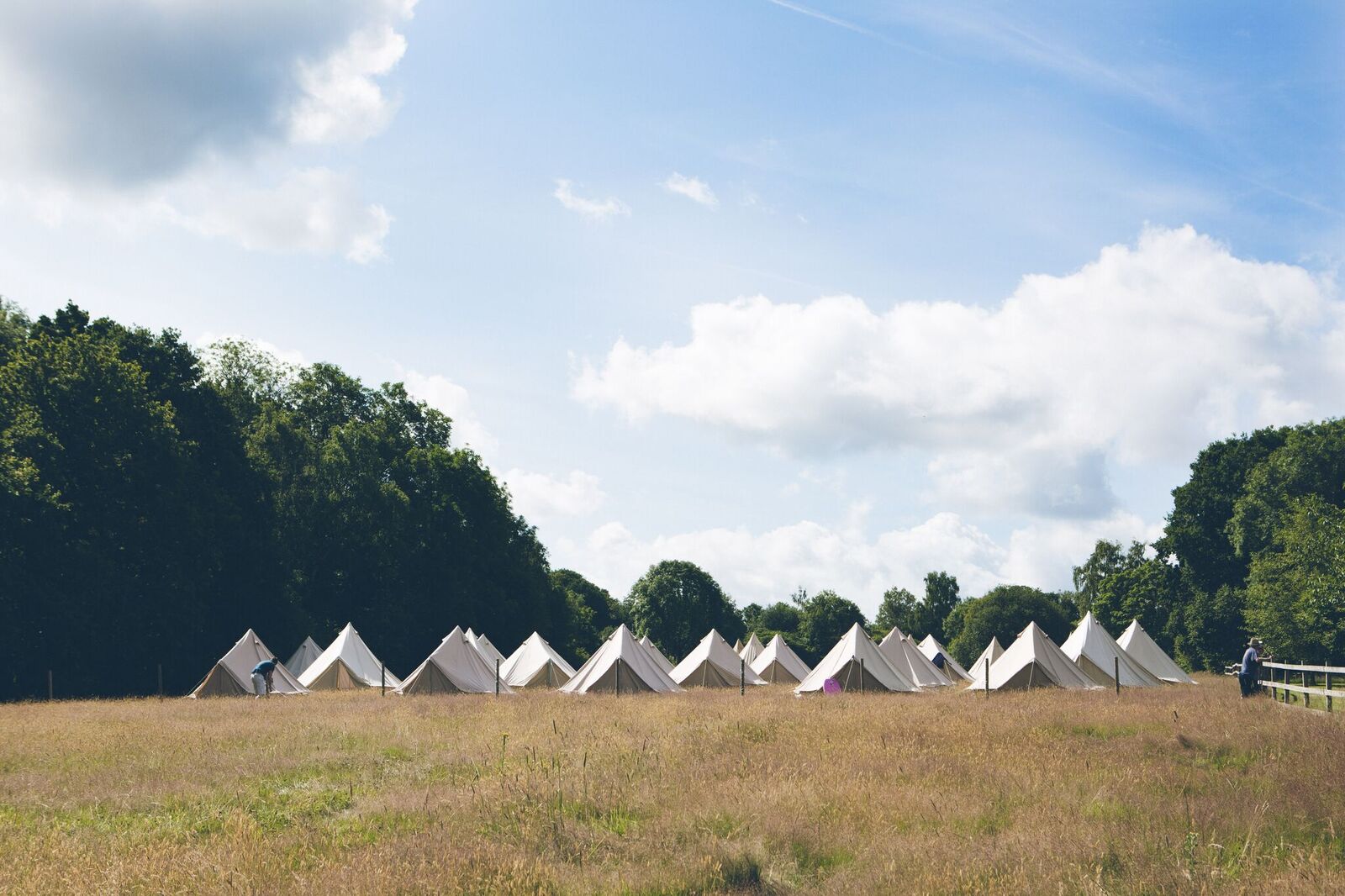 Boutique Glamping – a home from home under the stars​
Who wants the party to end?! Not us and certainly not guests at a Glamping Company event! We don't do carriages at midnight here! We want to make sure that you enjoy every moment of your big day be it a birthday celebration, a Festival Wedding or a large scale Corporate Event.What better way to complement a fun filled festival than to be able to wonder, at the end of the evening, back to your very cosy own boutique camping village. Our luxury bell tents at The Glamping Company are furnished with everything you'll need from mattresses, to freshly laundered crisp bedding with some home from home touches like low level tables, rugs, and LED lighting. Who needs a hotel when you can get comfort like this under the stars?!The beauty of hiring one of our bell tents is that you can arrive at the venue the night before the event. We usually have some scrumptious catering on offer freshly produced at the venue by The Street Food Catering Company and have the bar open courtesy of The Festival Bar Company for a few hours so that you are ready to get up and party the next day without a long drive! Let's also not forget that for those of you that are candidates for the last man standing, a short walk back to your bell tent is definitely the best option to put you firmly in the running!To find out a bit more about our luxury, home from home under the stars glamping villages, get in touch with us at The Glamping Company today and talk to our experts about how we can create canvas magic for you! #LetsCelebrate​
Hotel, B&B or Boutique Glamping?​
We can't argue that there is a lot to be said about being at an outdoor event and getting in a warm and cosy bed. Here at The Glamping Company we combine the comfort and warmth of staying at the venue with a huge amount of the big C – Convenience!Along with convenience, we also offer prices that we believe will blow all of the alternatives into the wind.Our luxury boutique five metre bell tents can sleep up to six with most configurations to suit you. We don't like to install more than two doubles, but they can easily fit nicely along with two singles, making the total number of guests a staggering six! For real comfort, we recommend four per tent.But let's play a number game here…If you ordered a bell tent with six guests, fully decorated with rugs, low level table, LED lighting, two doubles and two singles the price tag for 2017 is £390 or £60 per glamper all in. Realistically, the price for a B&B per person is usually around £70 for something basic, let's round that down to £400. You then have to think about two taxis back or an eight seater, this is of course going to vary from venue to venue. But essentially, it is cheaper and much more 'festival' to glamp!Based on four of you sharing it works out as £330 per fully kitted out tent, or £82.50 per person.Hang on, I almost forgot something very important, I would even describe this as essential…So you wondered back to your bell tent, you slept under the stars, what's next? Breakfast of course!!! At our venues the Street Food Catering Company will start sizzling crispy bacon, Lincolnshire sausages and fried egg breakfasts baps for you, all of course washed down with the cuppa of your choice! Now is that's not worth pitching up under the stars and you are not sold- nothing is! Don't worry, I will eat your portion and the left over's, perk of the job and all that!Our beautiful dressed luxury bell tents are the quintessential finishing to all of your festival requirements. Don't leave, stay and enjoy every moment of the magic with us.To find out more about packages we can offer, drop us a line today. Our friendly team are on hand to talk you through all of our packages and of course tuck you up under the night sky. #LetsCelebrate​